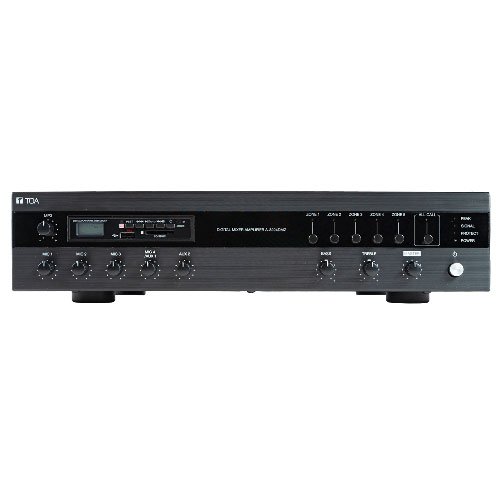 TOA Amplifiers In Pakistan
Display 15 Products per page
TOA Corporation Japan is a manufacturer of professional and commercial audio amplifier. It has range of analogue amplifier, Power amplifier, Digital amplifier, Digital matrix amplifier, system manager amplifier and voice alarm amplifier which can cater all the need to public addressing.

TOA Analogue Mixer amplifier price in Pakistan

TOA A-2000 series mixer amplifier provides high end performance at affordable cost in 30, 60, 120 and 240 watts machines. A-2000 series TOA amplifier are suitable for commercial audio systems in schools, offices, shops, factories, houses of worship, and large meeting room. TOA A-2000 series amplifiers are equipped with balanced microphone inputs for better isolation from external noise, compared to unbalanced inputs. In 30 watts TOA A-2030 has best price in Pakistan, In 60 watt TOA A-2060 has best price in Pakistan, in 120 watt TOA A-2120 has best price in Pakistan, In 240 watt TOA A-2240 has best price in Pakistan.

For extension of more power TOA Power amplifier P-2240 offers high performance-to-cost ratio, and can be used with TOA's A-2000 Series mixer power amplifiers. Because the P-2240 features a 100V line input, it can be connected to the speaker line from another amplifier. Also, the P-2240's power can be switched on and off by remote control, allowing it to be operated independently of the A-2000 Series.

TOA A-1700 series offers the TOA best analogue amplifiers with maximum input capacity in one unit. The A-1700 Series of high-performance mixing-dedicated power amplifiers are ideal for PA applications that value versatility. TOA A-1700 series specifically designed to satisfy the multi-microphone public address requirements of environments such as places of worship and meeting halls, the A-1700 Series Microphone Mixing Amplifiers focus on operational flexibility as well as advanced functions, proving an ideal cost-effective PA solution.

With 5 microphone inputs and 4 AUX inputs having 2 zones, in 120 TOA A-1712 has best price in Pakistan. In 240 watt TOA A-1724 has best price in Pakistan

TOA Digital Mixer amplifier price in Pakistan

TOA A-3000D series digital mixer amplifier provides 5 zones for broadcasting, paging and back ground music with MP3 Player, FM Radio, Bluetooth, Zone Selection and Equalizer. It can support up to 5 microphones and 2 aux. In 120 watt TOA A-3212DMZ has best price in Pakistan, in 240 watt A-3224DMZ has best price in Pakistan. In 480 watt TOA A-3248DMZ has best price in Pakistan.

A-3600D Series Digital Mixer Amplifier provide maximum flexibility with up to seven inputs and up to 480 Watts of power for two zones. Browser based control and monitoring from anywhere reduces your time control and adjusting systems. Feedback suppressor, input priorities, a sleek new appearance, and TOA's legendary quality and reliability makes this a perfect fit for background and foreground music, paging, and noise masking applications. The A-3600D series is suited for broadcasting paging's or background music in retail shops, educational facilities, bars, restaurants, offices, houses of worship and factories. The digital technology makes this amplifier energy efficient, eco-friendly and cost-effective

In 120 watt TOA A-3612D has best price in Pakistan, In 240 watt TOA A-3624D has best price in Pakistan. In 480 TOA A-3648D has best price in Pakistan.

TOA System Manager Amplifier price in Pakistan

TOA VM-2000 Series are affordable and high-value added components for any building or site. An indispensable part of building design and management today, communications infrastructures can effectively reach various audiences through paging, calls routed to selected areas and priority emergency announcements for the entire building. The VM-2000 Series represents a highly cost-effective solution for building management and owners. Designed specifically for effective communications in building, VM-2000 Series units are not conventional power amplifiers with just a few added features. They're optimized to deal with emergency situations to alert building occupants as well as routine announcements and BGM.

In 120 watts TOA VM-2120 and in 240 VM-2240 has best price in Pakistan.

TOA VM-3000 Series has range of integrated amplifiers that can be integrated with building management and fire alarm system. It has 5 zones with capacity of loading pre recorded messages which can be broadcasted with single touch of button. It has built-in paging microphone which can be used in case of emergency.

In 240 Watt VM-3240 and in 360 watt VM-3360 has best price in Pakistan.

TOA Voice alarm Amplifier price in Pakistan

TOA VX-3000 voice alarm amplifier is a reliable and energy-saving voice alarm system that combines all important functions for PA/VA in one unit frame. The limited number of components makes the design and installation much easier, as well as saving space and reducing cable complexity. This enables rapid system configuration and makes the VX-3000 a cost effective system. It comes with low loss modular class D amplifiers, with 3 different output ratings. These can easily be removed or replaced simply by unplugging them; there is no need for specialist tools. By using low loss modular class D amplifiers and modern power supply switching technology the system becomes much more energy efficient and keeps the operating costs low.

TOA Voice alarm system comes in 3 different models TOA VX-3004F, TOA VX-3008F and TOA VX-3016F.